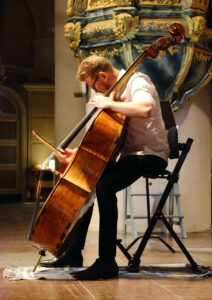 Åhls Kyrka Tuesday 12/9, 19-20
The concert opens with our universal master J.S. Bach. The three string players unite to play movements from the Goldberg variations, now tackling Parte Secundo".
We stay in string trio formation (violin, viola, cello) and play the delightful B major string trio by Schubert (also a recurring composer at the festival).
Leaving the stage to magician Daniele Rinaldo who will conjure up images at the keyboard in the fleeting Debussy pieces.
The program settles into grave, tragic, hopeful humorous Prokofiev. The dramatic Cello sonata composed in stressfull times.