Elisabeth Zeuthen Schneider, violinist and artistic director at Hildasholmsmusiken
Elisabeth Zeuthen Schneider studied at The Royal Danish Academy of Music, Copenhagen, under professors Milan Vitek and Endre Wolf. Her Soloist Diploma was awarded the highest marks. Her studies continued in the USA, where she got closely associated with members of the renowned Budapest String Quartet and the Beaux Arts Piano Trio. She has been awarded all the most prestigious prizes in Denmark including the Carl Nielsen, Jakob Gade and Sonning Foundation grants. She has been a soloist with all the major Danish orchestras, and was for a number of years Associate Concertmaster of The Royal Danish Orchestra and later The Danish National Symphony Orchestra.
Her position as Associate Professor at the Royal Academy of Music in Copenhagen for 30 years has enabled her to teach and nurture the talents of the next generation, as well as being part of a remarkable international development. She is one of the founders Thy Chamber Music Festival, running for 20 years now and listed along e.g. the Verbier Festival as one of the most innovative and popular attracting young musicians of the highest caliber from all over the world. Her experiences at the Marlboro Music Festival, Vermont founded by Adolph Busch and Rudolph Serkin, was inspirational in creating the Thy Festival where the professors play alongside the young musicians thus imparting experience and knowledge in the deepest sense of the words.
Her performing career the last decade has been centered around the repertoire for violin and keyboard. She has performed throughout Europe and the USA; the CDs that she has released have won critical acclaim for their in-depth interpretations.
Her releases include: Robert Schumann: Complete Violin Sonatas (Classico) J.P.E. Hartmann: Complete Works for Violin and Piano (dacapo) "Aquarelles/Watercolours": Swedish Romantic Violin/ Piano Music(Classico) "Conversations": A selection of Modern Danish Violin/ Piano Music (dacapo) Johann Mattheson: "Der Brauchbare Virtuoso", G.F. Händel: Violin Sonatas (Arcangelo Corelli:12 violin Sonatas Opus (Bridge Records) Emil Hartmann: Chamber Music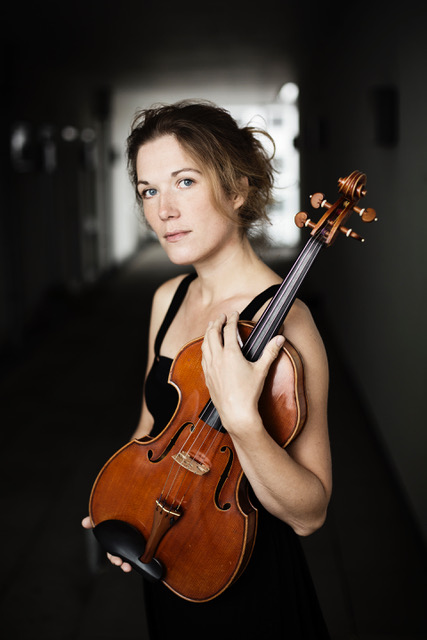 Mina Fred, viola
Mina Fred is an internationally chamber musician, soloist and improviser. Mina has studied viola at the Guildhall School of Music and Drama in London and the Banff Center for the Arts, Canada with prof. David Takeno and at the Jutland Conservatory of Music in Aarhus at doc. Claus Myrup, where she graduated from the musician line in 2004 and from the soloist diploma class in 2007. During the years 2011–2013, Mina studied at the Hochschule für Musik in Basel, with Fred Frith and Alfred Zimmerlin, where she received a Spezializierte Master Freie Improvisation 2013.
She is alternating solo violinist in the Danish Chamber Orchestra (Danmarks Underholdningsorkester) and solo violinist in Athelas Sinfonietta Copenhagen. Mina is frequently hired as a chamber musician at chamber and contemporary music festivals, all year round.
During the years 2007–2010, Mina was employed as a solo violinist in the Danish regional ensemble Det Jyske Ensemble. Mina also teaches viola at Orkester Norden's summer courses in Lahti, Finland and regularly leads workshops in free improvisation for both adults and children. Since 2004, Mina, together with violinists Thomas Bowes and Oscar Perks, is the artistic director of the small, international chamber music festival Langvad Chamber Music Days at Kirsten Kjærs Museum, Denmark.
Daniele Rinaldo, pianist
Hailed as "a pianist of extraordinary dramatic flair" (The New York Times), "a memorable artist… of remarkable maturity and imagination" (El Paìs), the Italian pianist Daniele Rinaldo has already performed as soloist in major venues and festivals all over the world, such as "Rising Stars" in Alice Tully Hall and Chelsea Music Festival in New York, Verbier, Lorin Maazel's Castleton Festival, Wigmore Hall, St-Martin-in-the-Fields and Barbican in London, Tonhalle in Zurich, Konzerthaus in Berlin and in the main halls of Paris, Basel, Tokyo, Geneva and Rome, as well as touring extensively Europe, Japan, China and South America.
He received his musical education at the Royal Academy of Music in London, at the Accademia Nazionale Santa Cecilia in Rome, at the Musik-Akademie in Basel where he obtained the Artist Diploma, and earlier at the Padua and the New England Conservatories. A pivotal figure in his artistic development has been Maria João Pires, who mentors him still today and with whom he often performs and shares the stage. In addition to his musical career, he holds degrees in mathematics and economics from the University of Padua, as well as a doctorate from IHEID in Geneva.